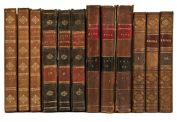 De werken van Jane Austen

".........my darling children......."

Sense & Sensibility Pride & Prejudice

Korte werken

Lady Susan (novelle)

Ned.vertaling Lady Susan, uitgever Boekwerk ISBN 90-5402-225-6

Lees Lady Susan online

The Watsons (onvoltooide roman)

Ned.vertaling De Watsons, uitgever Kemper&Boekwerk ISBN 90-76542-19-8

Lees The Watsons online

Sanditon (onvoltooide roman)

Ned.vertaling Sanditon, uitgever Kemper&Boekwerk ISBN 90-76542-19-8

Lees Sanditon online

Juvenilia

In haar jeugd schreef Jane Austen vooral voor familie en vrienden. Ze bewaarde dit jeugdige en spontane werk (vaak onvoltooid) in drie schriften en neemt hierin de sociale gebruiken en gevestigde literaire orde op de hak.

Volume The First (eerste deel) ; 1787-1790, grotendeels korte verhalen en toneelstukken :

Frederic and Elfrida

Jack and Alice

Edgar and Emma

Henry and Eliza

The adventures of Mr.Harley, Sir William Montague and Mr.Clifford

The beautiful Cassandra

Amelia Webster

The Visit - een komedie in twee akten

The Mystery : an unfinished play

The Three Sisters

Ode to Pity

Volume The Second ( tweede deel) ; 1790-1792, grotendeels epistolaire verhalen:

Love and Freindship (de spelfout in 'Friendship' was opzettelijk en beroemd)

Lees Love and Freindship online

Lesley Castle: An Unfinished Novel in Letters

Lees Lesley Castle online

The History of England (parodie/satire op geschiedenisboeken die Jane als kind

las)

Lees The History of England online

A Collection of Letters

Scraps (brieven&verhalen, opgedragen aan haar nichtje Fanny)

Lees Scraps online

Volume The Third (derde deel) ; twee novelles, 1792-1793 :

Evelyn

Catharine, or the Bower

Jane Austen's Letters

Jane Austen Quotes

© Jane Austen Society NL. De teksten op deze website mogen niet doorgeplaatst worden zonder toestemming. Citeren mag alleen met bronvermelding. Neem contact op voor meer informatie via info@janeaustensociety.nl

© Jane Austen Society NL. It's prohibited to use the content of this website without permission.

Quoting only with acknowledgement of source. Please contact info@janeaustensociety.nl for more information.




JASNL © 2010 • Privacy Policy • Terms of Use
Jane Austen Society Nederland