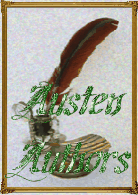 Link naar Jane Austen Biography

online

Werken over Jane Austen

Mansfield Park Musings

Jane Austen Society NL celebrates 200 years Mansfield Park with...:

In 2015 hebben we interessante guestposts geplaatst die verschillende Jane Austen kenners en auteurs voor ons hebben geschreven om samen het 200 jarig jubileum van Mansfield Park te vieren. Heb je deze gemist of wil je ze nog eens opnieuw lezen?

Je bent van harte welkom om te genieten van de diverse invalshoeken en mijmeringen, je kunt ze hieronder vinden :

"Falling in Love with Mansfield Park" door Susannah Fullerton

"A Creepmouse with a Nasty Bite" door Hazel Jones

"Dear Mary......" door Maggie Lane

"Judging Mansfield Park by its cover" door Janine Barchas

"Mansfield Park : An Appreciation" door Dr. Paul Franssen

"Mansfield Park on and off screen" door Josť Roeken (Nederlands/Dutch)

"Why I Love Mansfield Park" door Syrie James

"Mansfield Park - an outsider's view" door Louise West

"Fanny Price : to like or not to like" door Karin Quint (Nederlands/Dutch)

An Allegorical interpretation of Mansfield Park" door Rev Dr Michael Giffin

Insipid and Unlikeable door Amy Patterson

Mansfield Park : First Impressions, Shifting Loyalties door Laurie Viera Rigler

Playboys, Divas and Bores door Karen Doornebos

Essays/ Scripties/ Publicaties over Jane Austen en haar tijdsperiode

(verschenen in de Wereldbibliotheek van Armada 6.21 (jan. 2001)

The Use of Landscapes in Jane Austen's Novels

De invloed van revoluties op de

Engelse High Society 1790 - 1830

Interviews

Tim Bullamore

Uitgever van Jane Austen's Regency World

14 april 2012

Met veel plezier lezen we elke keer het 2-maandelijkse Engelse magazine Jane Austen's Regency World, dat vol staat met wetenswaardigheden over Jane Austen en de Regency periode.

Regelmatig hebben we emailcontact met de uitgever, Tim Bullamore, en eigenlijk waren we bij JASNL best nieuwsgierig naar deze man achter dit mooie tijdschrift. Juist omdat het lijkt dat vooral vrouwen zich bezighouden met 'All things Austen'!

Het werd dus hoog tijd om Tim Bullamore eens het hemd van het lijf te vragen en we bedanken hem hartelijk voor zijn medewerking!

En hopen natuurlijk dat hij in de nabije toekomst bij ons langskomt om een Jane Austen lecture/talk te geven........

Wil je weten wat hij ons vertelde? Klik dan HIER voor het (Engelstalige) interview....

Tim Bullamore

Ook voor bezoekers van deze website is er een SPECIAL OFFER op een abonnement en kijk ook eens op

Karin Quint

De eerste complete Jane Austen reisgids ter wereld en nog wel Nederlandstalig! Karin Quint heeft haar liefde voor Jane Austen en al haar kennis in een prachtig boek geschreven, na maanden op pad te zijn geweest in Engeland om de voetsporen van Jane Austen te volgen. Resultaat is een must-have voor iedere Jane Austen liefhebber.

Lees HIER het interview dat wij, als een van de eersten, met Karin hielden.....

Boeken

Er zijn ontelbaar veel boeken verschenen over Jane Austen, met Jane Austen of geinspireerd door Jane Austen's werk en tijdsperiode, hieronder een " kleine" greep uit het enorme aanbod:

Jane Austenís Life & Times

A Memoir of Jane Austen, James Austen-Leigh

Writerís Lives: Jane Austen, Deirdre Le Faye

Jane Austen: The World of her Novels, Deirdre Le Faye

Janeís Fame Ė How Jane Austen conquered the world, Claire Harman

Jane Austen: A Life, Claire Tomalin

Jane Austen & Marriage, Hazel Jones

Jane Austen, Marghanita Laski

Jane Austen, Pitkin Guides

The Immortal Jane Austen, Maggie Lane

Jane Austen, Helen Lefroy

Jane Austen, Carol Shields

Jane Austen, D.A. Miller

Christian Encounters: Jane Austen, Peter Leithart

A History of Jane Austenís Family, George Holbert Tucker

A Chronology of Jane Austen and her Family, Deirdre Le Faye

All Things Austen: A Concise Encyclopedia, Kirstin Olsen

Jane Austen: Her Homes & Her Friends, Constance Hill

Jane Austenís England, Maggie Lane

Georgian Life, Tic Toc Publishers

Life in Georgian Britain, Pitkin Guide

The Gentlemanís Daughter, Amanda Vickery

Behind Closed Doors, Amanda Vickery

Jane Austen & Representations of Regency England, Roger Sales

The Georgians, R. Brocklejurst

The Jane Austen pocket bible, Holly Ivins

The Bedside, Bathtub & Armchair Companion to Jane Austen, Carol

Adams, Douglas Buchanan & Kelly Gesch

Jane Austen for Dummies, Joan Klingel Ray

Jane Austen and Names, Maggie Lane

The Wicked Wit of Jane Austen - Dominique Enright

Jane Austen in her own words, Pitkin Guides

Jane Austen & Theater

Jane Austen and the Theatre, Paula Byrne

Jane Austen: Real and Imagined Worlds, Oliver MacDonagh

Jane Austen and the Theatre, Penny Gay

Cooking and more with Jane Austen

The Jane Austen Cookbook, Maggie Black & Deirdre Le Faye

Jane Austenís Christmas, Maria Hubert

Tea with the Bennets, Margaret Vaughan

In the Garden with Jane Austen, Kim Wilson

Tea with Jane Austen, Kim Wilson

Jane Austen & Clothes

Jane Austenís Sewing Box, Jennifer Forest

Costume from 1500 to the present day, Pitkin Guide

Jane Austen Fashion, Penelope Bryde

Fashion in the Time of Jane Austen, Sarah Jane Downing

Jane Austen Places

Het Engeland van Jane Austen, Karin Quint *** Zeer aanbevolen

Finding Jane Austen in Chawton, Elizabeth Proudman

Chawton: Jane Austenís Village, Rupert Willoughby

Jane Austen and Chawton, Jane Hurst

Jane Austen and Alton, Jane Hurst

A Walk With Jane Austen, Lori Smith

A Rambling Fancy, Caroline Sanderson

A Charming Place: Bath in the Life and Times of Jane Austen, Maggie Lane

Jane Austen TV and Film Locations Guide, Marcia McLuckie

Lacock TV & Film Location Guide, Ben Smith

Jane Austen on screen

Jane Austen on Film and Television, Sue Parrill

Jane Austen in Hollywood, ed. Linda Troost Sayre Greenfield

Recreating Jane Austen, John Wiltshire

Jane Austenís Textual Lives, Kathryn Sutherland

Jane Austen on Screen, ed. Gina Macdonald & Andrew F. Macdonald

Sense & Sensibility: The Screenplay and Diaries, Emma Thompson

The Making of Pride and Prejudice, Sue Birtwistle & Susie Conklin

Persuasion Screenplay, Nick Dear

Fun Books

The Jane Austen Handbook-A Sensible Yet Elegant Guide

to her World, Margaret C.Sullivan

Jane Austenís Guide to Romance, Lauren Henderson

Dear Jane Austen: A Heroineís Guide to Life and Love, Patrice Hannon

A Jane Austen Miscellany, ed. Kristen M. Clearly & Robin L. Sommer

Jane Austenís Guide to Good Manners, Josephine Ross

The Jane Austen Quiz Book, Helen Barton

So you think you know Jane Austen?, John Sutherland & Deirdre Le Faye

Jane Austen: A Literary Challenge, Helen Barton

The Jane Austen Quiz and Puzzle Book, Maggie Lane

A Pleasant Diversion: The Jane Austen Acrostic Puzzle Book, June Arnold

Spin-offs

Mr. Darcyís Diary, Amanda Grange

Captain Wentworthís Diary, Amanda Grange

Mr. Knightleyís Diary, Amanda Grange

Edmund Bertramís Diary, Amanda Grange

Confessions of a Jane Austen Addict, Laurie Viera Rigler

The Lost Memoirs of Jane Austen, Syrie James

I was Jane Austenís best friend: A Secret Diary, Cora Harrison

Being Elizabeth Bennet, Emma Campbell Webster

Criticism & Study

Mastering English Literature, Richard Gill

Mastering the Novels of Jane Austen, Richard Gill & Susan Gregory

Jane Austen in Context, Janet Todd

Cambridge Companion to Jane Austen, Edward Copeland & Juliet McMaster

The Cambridge Introduction to Jane Austen, Janet Todd

Jane Austen: The Novels, Nicholas Marsh

Critical Issues: Jane Austen, Darryl Jones

How to Study a Jane Austen Novel, Vivian Jones

Jane Austen, Tony Tanner

Jane Austen, Pat Levy, Studentís Guide Literary Series

Mansfield Park: Macmillan Master Guides, Richard Wirdnam

Manfield Park: A Readerís Guide to Essential Criticism, ed. Sandie Byrne

Northanger Abbey & Persuasion, Casebook Series ed. Brian Southam

Northanger Abbey, Norton Critical Edition ed. Susan Pearman

Pride and Prejudice: A Sourcebook, ed. Robert Morrison

Pride and Prejudice, One World Classics

Emma, One World Classics

Mansfield Park, One World Classics

Pride and Prejudice, Graphic Novel Series

Jane Austen and Religion, Michael Griffin

Jane Austen's Sailor Brothers, J.H.Hubback

Jane Austen in the Context of the Abolition, Gabrielle D.V. White

Jane Austen and the Morality of Conversation, Bharat Tandon

Regulated Hatred and Other Essays on Jane Austen, D.W. Harding:

Jane Austen and the French Revolution, Warren Roberts

Jane Austen, Feminism and Fiction, Margaret Kirkham

Jane Austen and the Navy, Brian Southam

Jane Austen and the Body, John Wiltshire

Jane Austen and the War of Ideas, Marilyn Butler

Jane Austen and the Fiction of Her Time, Mary Waldron

A Reading of Jane Austen, Barbara Hardy

Jane Austen Caught in the Act of Greatness, Arthur M. Axelrad

Jane Austen, Robert Miles

Jane Austen: Introductions & Interventions, John Wiltshire

Jane Austenís Art of Memory, Jocelyn Harris

Romantic Austen: Sexual Politics and the Literary Canon, Clara Tuite

Jane Austen and the Enlightenment, Peter Knox-Shaw

Childrenís Section

Scenes from Georgian Life, Pastime Colouring Book

A Heroes History of The Georgians, William Webb

Pride and Prejudice Paper Dolls, Brenda S. Mattox

Horrible Histories: The Gorgeous Georgians, Terry Deary

Cassandraís Sister, Veronica Bennett

Jane Austenís novels herschreven voor een jong publiek:

Real Reads:

Sense & Sensibility, Gill Tavner

Pride & Prejudice, Gill Tavner

Mansfield Park, Gill Tavner

Emma, Gill Tavner

Northanger Abbey, Gill Tavner

Persuasion, Gill Tavner

Sense & Sensibility, Puffin Classic Junior (abridged)

Pride & Prejudice, Puffin Classic Junior (abridged)

© Jane Austen Society NL. De teksten op deze website mogen niet doorgeplaatst worden zonder toestemming. Citeren mag alleen met bronvermelding. Neem contact op voor meer informatie via info@janeaustensociety.nl

© Jane Austen Society NL. It's prohibited to use the content of this website without permission.

Quoting only with acknowledgement of source. Please contact info@janeaustensociety.nl for more information.




JASNL © 2010 ē Privacy Policy ē Terms of Use
Jane Austen Society Nederland